How do I create a Split-Bill™?
To split your bill with a friend or assign your bill to a friend, go to you cart and select the option to checkout. Once you arrive at the payment details page, click the Split-Bill™ checkbox and select the amount (percent) of the bill you would like to pay and what you would like your friend(s) to pay. After this, continue the checkout process as normal.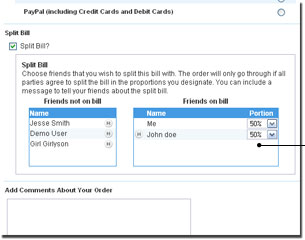 How do I send my bill to a friend?
If you don't want to pay for a bill yourself, you can send your bill to a friend to pay. Just make sure you check with them first if they want to do this! To send your bill, simply assign yourself 0% of the bill and your friend(s) 100%. They will receive a notification to pay for the split-bill.
Before Splitting A Bill
Before you split a bill with someone, always make sure you agree on what you are buying with this person and that they will split the bill with you when the request comes to them!
I got a Split-Bill™ request, what should I do?
If you received a split bill request, you have two options: You can choose to accept the Split-Bill™ and pay for your part of the bill. To do this, click the checkmark beside the notification and complete the checkout process. This doesn't mean that the order will be complete though. There could be other members of the Split-Bill™ that have yet to pay You can choose to deny the Split-Bill™ request. Do this by clicking the cross icon beside the notifcation, but be aware that this will cancel the order entirely and each member of the Split-Bill™ will have their money refunded.
What happens if someone doesn't pay their portion?
If a member of a Split-Bill™ does not pay their portion within one week or denies the Split-Bill™ request, the order will automatically be canceled and all members of the Split-Bill™ will have their money refunded.